School Handbook Info.
This is only a portion of the TJA Student Handbook. For more detailed information, please refer to the student handbook. If you do not have a copy of the student handbook, you may obtain one from the school office.
ADMISSION POLICY
Pupils who transfer to TJA from other school systems will need to have their report cards and achievement records. We will secure a copy of their records, which must show the transferee to be a student in good standing. They are accepted conditionally until all records are complete and show them to be of good character and normal learning ability. The school requires that applicants pass an admission test which determines learning ability. In order to enter kindergarten, a child must be 5 years old on or before October 1 of that school year. Current State Immunization requirements must be met. BIRTH CERTIFICATE AND IMMUNIZATION RECORDS MUST BE PRESENTED WHEN ENROLLING YOUR CHILD. In addition, they must have eye and ear examinations, all of which must be evidenced by either the local health department or other family physician.
ABSENCES
In order to be counted present, a student must be at school by 11:00 a.m. Only illness, doctor's appointments and deaths in the immediate family are excused absences. All other absences are unexcused. Doctor's appointments will require a signed "Return to School" permit for the absence to be excused. Parents wishing to have an absence excused that does not fall into the above category may submit a written request one week in advance to the Headmaster of the school. The Headmaster will determine if the activity justifies granting an excused absence. Students with unexcused absences will receive a zero in all classes missed even if no test or daily grade was taken by the teacher.
Following an absence, regardless of the reason, every student should bring a note by the student's parents or guardian and should include the dates absent and the reason for the absence.
A student cannot miss over a total of 15 days or class periods and receive credit for the course. Students who miss 10 days, whether excused or unexcused, will be required, along with parents, to meet with the Headmaster in order to be allowed to return to school.
TARDINESS
The school day begins at 8:00 a.m. The school day ends at 2:36 p.m. Pupils must report to the Assistant Headmaster's office for tardy slips if the student arrives after the 8:00 bell. These slips should be taken to homeroom teacher and to the teacher(s) of the class(es) for which the student was tardy. Students are allowed seven (7) unexcused tardies. After seven unexcused tardies the student will perform an after school Work Detail that is set at the discretion of the Headmaster. Each student who is tardy must check with his/her homeroom teacher so that he/she will be marked present for the day. The discretion of excused or unexcused tardies will be decided by the Headmaster or Assistant Headmaster at the time of the tardy and not any time thereafter.
GRADING
The minimum passing grade will be seventy. Honor graduates will be those seniors having an overall grade average of 90 or above in core classes.
| | | |
| --- | --- | --- |
| • | 90-100 | A |
| • | 80 – 89 | B |
| • | 70 – 79 | C |
| • | Below 70 | Failure |
DEFICIENCY REPORTS
At the mid-point of nine weeks period, deficiency reports will be sent home if a child is in jeopardy of failing a subject for that particular nine weeks. This deficiency report should be signed and returned to the school. PARENTS SHOULD ASK THEIR CHILD(REN) IF THEY HAVE RECEIVED A DEFICIENCY REPORT.
DRESS CODE
| | |
| --- | --- |
| • | No visible tattoos, body piercing, no "punk" hair cuts/color |
| • | Hats & sunglasses can not be worn in the main school building or gym during school hours. |
| • | Shoes required |
| • | No cutoffs, no fleece-type sweatpants, no camouflage, no windsuits |
| • | Shorts and dresses must be to the knee |
| • | No flip flops |
| • | No low-riding wasit pants, shorts, or skirts |
| • | Flesh in the midriff should not be seen while student is standing, sitting or with arms raised overhead. |
| • | No under-sized or oversized pants, shorts, and skirts |
| • | Pants or shorts will have NO rips, tears, cuts, or holes, and will be hemmed |
| • | Shirt tails must be tucked in at all times |
| • | Pants are not allowed to drag on the ground |
| • | No strapless dresses or shirts |
| • | No wearing of letterman's jackets or sweaters or insignia from other secondary schools |
| • | Hair will be neat and well-groomed. |
| • | Boys will be clean shaven, no mustaches, or goatees. Sideburns must not be below the ear. |
| • | No earrings for boys. For girls earrings must be worn in the lower lobe of ear only. |
The handbook is the student's warning and the following disciplinary action will take place on:
First offense: Offenders will be sent home to change clothing and allowed to return to school.*
Second offense: Offenders will receive Saturday Work Detail and students will be sent home to change and allowed to return to school.*
Third offense: Offenders will be suspended.
* All offenders will be required to call parents from the front office and check out of school. All offenders will receive a zero in classes missed.
SATURDAY WORK DETAIL
In addition to dress code offenses listed above, students may also receive Saturday Work Detail for the following reasons:
| | |
| --- | --- |
| • | Chewing gum on school premises |
| • | Excessive tardies |
| • | Refusing to adhere to haircut requirements |
| • | Showing disrespect/disobedience to school authority |
| • | Cheating |
It is our goal at Thomas Jefferson Academy to provide your child with the best education and environment possible. Thank you for your support of our school and our faculty.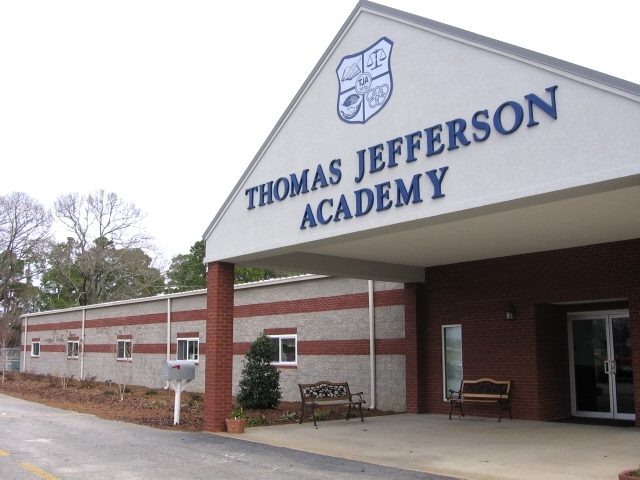 Class Bell Schedule for Grades 6th – 12th